L'agriparc : une innovation pour l'agriculture des territoires urbains ?
We are dealing with agriculture as new object of urban policies through the example of the agriparc, a multifunctional agricultural park project included in the urban space. Our analysis is based upon a follow-up of planning policies in Montpellier, and on a series of interviews on the implementation of one agriparc project. The case of Montpellier is put into perspective among various European examples. Then we focus on the agriparc of Viviers, showing how this project is part of the strategies facility of the stakeholders. The study of this device reveals that their visions of agriculture and their interests differ. Our critical analysis of the project allows us to discuss the agriparc as an innovation tool for agriculture in urban areas. This example leads ultimately to an understanding of innovation as a product of the relationships between local stakeholders, which does not conform to the model resulting from the references of multifunctionality and sustainability. Moving from concept to reality, agriparc becomes a "living lab" where several forms of urban agriculture coexist. They differ in their technical and economic models, and in their links to the city.
Nous nous intéressons à l'agriculture comme nouvel objet des politiques urbaines à travers l'exemple de l'agriparc, projet de parc agricole multifonctionnel inclus dans l'espace urbain. Notre analyse s'appuie sur un suivi des politiques d'aménagement de Montpellier et une série d'entretiens autour de la concrétisation d'un agriparc. Après avoir situé le cas de Montpellier dans une revue d'expériences européennes, nous étudions l'agriparc de Viviers, montrant comment cette opération s'inscrit dans les stratégies des acteurs. L'étude de ce dispositif révèle que leurs visions de l'agriculture et leurs intérêts diffèrent. Notre analyse critique de ce projet permet de discuter de l'agriparc comme outil d'innovation pour l'agriculture des territoires urbains. Cet exemple conduit in fine à une compréhension de l'innovation comme produit des jeux d'acteurs locaux, qui ne se conforme pas au modèle issu des référentiels de multifonctionnalité et de durabilité. En passant du concept à la réalité, l'agriparc devient un espace d'expérimentation "in vivo" où coexistent plusieurs formes d'agriculture urbaine, différant dans leurs modèles technico-économiques et leurs liens à la ville.
Fichier principal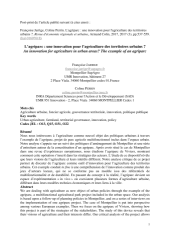 2017_Jarrige_Perrin_RERU.pdf (1.19 Mo)
Télécharger le fichier
Origin : Files produced by the author(s)